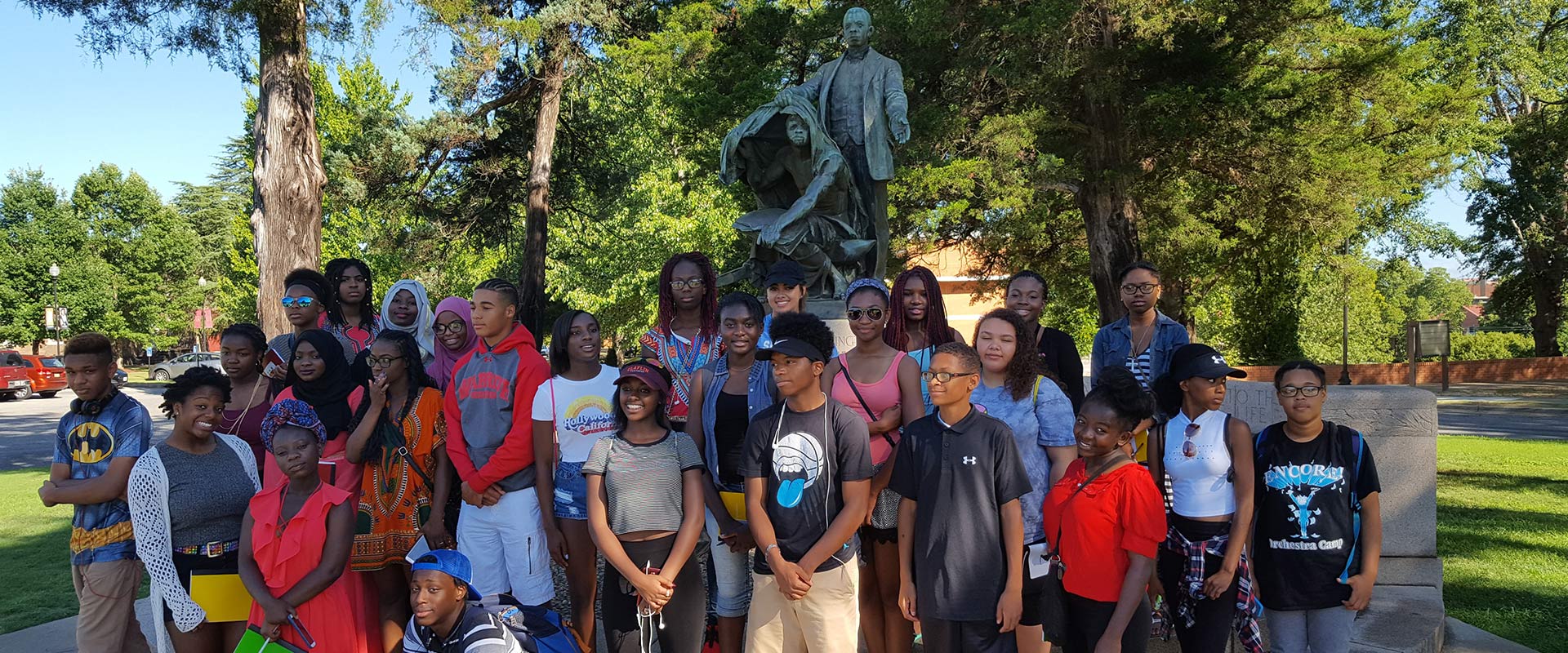 OUR MISSION
The Mission of The Academy for Scholastic and Personal Success is to instill pride in and understanding of African American culture as a tool to encourage academic achievement and positive behaviors, toward post-secondary matriculation and productive citizenship.
We stand on the shoulders of our ancestors
Invest In Yourself
For more than 30 years African American students have participated in The Academy for Scholastic and Personal Success summer program, which teaches the core curriculum from a cultural perspective. The Academy encourages students to take responsibility for their academic progress, uses cultural information to teach them why it is important, and shows them how to do it.
The AAAP (African American Awareness Program) mirrors the Expansion program and prepares middle school students for The Academy SPS. In AAAP middle schoolers continue to learn the importance of self regard and academic excellence.
The Academy Expansion offers weekly lessons in the culture to African American third, fourth, and fifth graders, teaching the self confidence, and classroom skills necessary to establish academic success.
Parental Support
Parent involvement in Academy programming is crucial–both because parents may need to "put their foot down" in order to encourage students to attend an academic program during the summer, and because parents as volunteers and supporters are necessary.
The Academy requires parent involvement from the Orientation through the Closing Ceremony. If a parent is unwilling/unavailable, a responsible adult may support the student. Parents are oriented along with students regarding the structure and expectations of the programs. They must engage in a one-on-one conference on their student's progress, are expected to attend the Closing Ceremony, and are encouraged to visit classes and even travel with The Academy on our post-session trips.
Parent volunteers are also expected to support the program by attending meetings and helping with student fundraisers. Once a student is an "Academy Kid", the family becomes part of our "Family".
You can't know where you're going if you don't know where you've been
It takes a village to raise a child
"I feel blessed to have found the Academy; it has given me a different outlook on my race and culture. The Academy is going to help me prepare for a future as a successful African American Woman.
It's a great program and I'm looking forward to attending the next two years."
"To have been in The Academy at the very beginning of the process and to see what it has truly blossomed into really blesses my heart.
I am glad that it inspired me to see the beauty of our history, of our culture, and of myself."
"The Academy has helped my children learn about their heritage. It also helped them be confident about who they are as African Americans in this world.
They were able to learn that they are important. It brought their confidence up, and I believe it helped them become leaders."
The Academy SPS reinforced our families' teachings of attainable goals. Being taught be African American scholars and professors gave my son touchable goals.
I feel it's a parent's obligation to instill the desire for achievement in every area of their children's lives. When The Academy SPS becomes a part of the process, success is attainable, touchable, and expected. Thank you!
"The trip to Atlanta gave me the opportunity to learn things I never knew about African American culture.
The Academy also taught me about myself and helped me prepare for college."
"The Academy gives you what you don't learn in school, because you get to focus on African American culture and still learn subjects like math and science."
"Though it's difficult to compare different opportunities, I think the Academy for Scholastic and Personal Success had the most influence on me.
The program has helped me become a better leader and has opened my eyes to my heritage and culture."
"The Academy helped me know and experience the world outside of Cedar Rapids.
It helped me recognize and appreciate the power I had within myself."
"The Academy SPS presents itself as an enrichment program geared toward mitigating the widening education gap but I can attest that it is much, much more than that.
As a student, I was able to learn more about myself in those six weeks than I had learn in the past 18 years of my life.  It truly is a transformational experience."